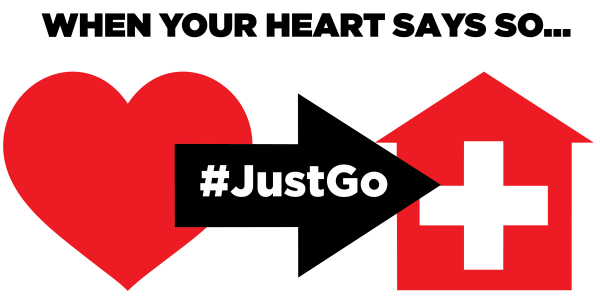 When your heart says so…just go! #JustGo
Given the impact of Covid-19 on patients with CVD, this international 'Patient to Patient' campaign, has been developed by the FH Europe (www.fheurope.org) and the Global Heart Hub (www.globalhearthub.org), both of which are non-profit organisations providing platforms for those affected by cardiovascular disease (patients & carers). FH Europe is a patient network of 24 patient organisations across Europe, whose mission is the advancement of health and the prevention of early cardiovascular disease, particularly but not exclusively by the provision and sharing of information about dyslipidaemia, including familial hypercholesterolaemia (FH) and related conditions. We are also a partner with the EAS FH SC. The Global Heart Hub (GHH) is  an alliance of international heart patient organisations, aiming to create an organised and united voice for those living with or affected by heart disease. Currently, with 40+ affiliates, GHH has representation in the USA, Canada, Latin America, Europe, Australia and the Middle East.
This is a confidence building campaign, where the messaging  strongly says that: if you are experiencing new heart symptoms or if you have a pre-existing heart condition and your symptoms worsen, you need to see a doctor or go to hospital. Put your heart before your fear of Covid-19. Each patient organisation, interested in participating and supporting this project, is invited to use the available resources, which we encourage to localise by featuring local patient testimonials and highlighting local clinician endorsement. The campaign will commence on June 15th, 2020 and run as long as the current crisis requires.
Click on the links to download the materials. Use these resources to share the new international Covid-19 Patient to Patient Confidence Campaign with your networks:
1. Graphics & Tagline
Available in 12 languages (English, Czech, Dutch, French, German, Italian, Latvian, Lithuanian, Polish; Portuguese, Slovenian, Spanish). You will notice that we have developed an image which we believe is high impact and simple at the same time. A range of graphics including the translated tagline are available to download for use across the various social media platforms. Click on the flags below to download the graphics in the required language:
Now also available in Arabic
2. Press Release
A FH Europe and Global Heart Hub press release in English, including a number of quotes representing the strong support this campaign is receiving from world recognised organisations and societies. This can be the basis for your local press release and you can choose which quotes to use along with your local quotes and content. (already contains quotes of endorsement from international leading societies like the World Heart Federation, the European Atherosclerosis Society and the European Society of Cardiology)
> Download Press Release Template (English)
3. Key Messages
This content can be used and translated locally to create a campaign page on your local website and for your social media messaging.
> Download Key Messages Template (English)
4. Radio Advert Script
A 30 second radio advert script in English is available should this be useful in your countries.
> Download Radio Script (English) 
5. Toolkit Tips
This document includes useful tips for the use of the above campaign elements, recommendations for patients and clinician involvement, along with a campaign calendar and ideas for local planning purposes.
> Download Toolkit Tips (English)
FH Europe is supported by an educational grant from Amgen Limited, Sanofi, Regeneron, Akcea Therapeutics Inc. and Amryt
Site by: Vovi Web Design