#FHAWARE2020 Campaign
Local Initiatives
SHARE, EXCHANGE and BORROW
Showcasing local initiatives to #FindFH.
Being the Network's hub, we offer a dynamic platform to showcase the diversity of the Network organizations' ideas and plans, to offer inspiration, to facilitate sharing and exchange of ready solutions. It can be anything from website blogs and Social Media posts to events, meetings, webinars, visuals. Even if at early stage and only concepts, it is great to let other organizations know what is possible. This can also encourage people from outside the Network to help raise awareness about FH.
Simply email your plans using the attached form. Add any links, hashtags and photos. You can do it from now on, till September 22. As you progress and fine tune your plans, we will be regularly updating them.
To amplify the impact, we wish to act and be a community. To strengthen this Network effort across the countries, we invite you to use the #FHaware2020 hashtag and logos developed for this opportunity.
Austria
The Austrian patient organization FHChol published a press release today, which you can assess directly at https://www.medmix.at/90-prozent-der-menschen-mit-familiaerer-hypercholesterinaemie-ohne-behandlung/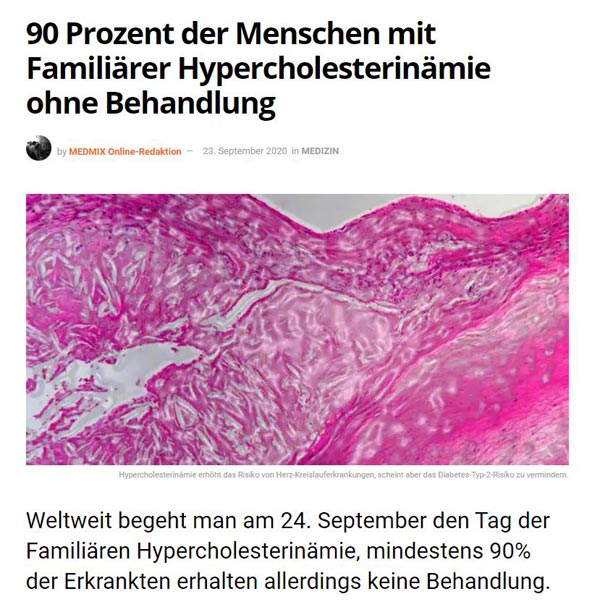 On the occasion of the FH Awareness Day the organization is happy to share brochures developed in collaboration with Austrian and international experts in German, Italian and Russian languages to help raise awareness.
Download brochure in German
Download brochure in Italian
Download brochure in Russian
Czech Republic
FH Week 2020
Already for the 5th time FH Week in Czech Republic will focus on cardiovascular prevention and rising awareness about FH.The local medical team (nurses, physician, nutrition specialist and one specialist on sport-medicine) will visit firms and institutions, examine capillary blood samples and provide counselling and education about cardiovascular health. All FH suspected cases will be delivered to special FH medical centres for proper examination. In 2020, during one week in September, the Diagnoza FH team wish to check more than 700 people (and detect about 10 FH cases, based on the based experience).During this year's FH Week, they also launch a collaboration with medical students (www.IFMSA.org ). Medical students – volunteers will act as educators. The Diagnoza FH, z.s. team are currently preparing special leaflets covering the following topics: "How to recognize a heart attack", Know Your blood levels" and "Stroke-act fast".  A joint press conference with the support of Czech Society for Atherosclerosis will be held on FH Awareness Day, September 24.
Social media campaign focused on secondary prevention. Target population: people 50+ and people with established CV disease,not only for FH patients. Aim: support their long-term adherence to medical therapy, exercise and diet treatment. Format: a few short video-spots; an interviews with children actors about their grandparents, e.g. : Do you know what atherosclerosis, heart attack…is? Do your Grandma and Grandpa go for walks with you? What is their favorite food? Do you think it is important that they take care of themselves? How should they take care of themselves? Etc. The spots will be released on social networks during autumn and they also will run on screens in hospitals. This campaign will be available with in English version (subtitles), and ready to share it with the FH Europe members. For more information contact Kristýna Čillíková.
Educational Movie
DIAGNOZA FH developed a new educational and public awareness raising movie, where young children urge their grandparents to look after their health to manage atherosclerosis. It is available in Czech and in English. 
Diagnoza FH Annual Journal
Vol. 5, print and e-version (interviews, articles, news for all Diagnoza FH, z.s. members, 38 pages, 2000 printed pieces)
Lecture
Talk given at the Academy of Patients Organisations (APO) by AIFP (The Association of Innovative Pharmaceutical Industry)  by Kristyna Cillikova about the possibilities and benefits of membership in an international organization, like FH Europe. The lecture was intended to motivate and inspire other PAG to act internationally.
Latvia
1. Media information
Press release about the FH Awareness Day to educate the population about the risks of FH and to inform them about the possibilities of diagnosis and treatment.
Several publications and interviews about FH are planned during the week of FH Day.
2. Social media activities
We want to introduce public with the work of the FH register and the specialists who work there and consult patients. Therefore, we plan to prepare short news about each doctor, which will be published on Facebook.
We also plan to publish educational information on the risks of FH and high cholesterol, as well specialist advice on our Facebook @ParSirdi.lv ❤ and Twitter @Parsirdi profiles, as well as on the websites www.parsirdi.lv and www.parholesterinu.lv
3. Call to action on FH
During the week of FH Awareness Day, we plan to introduce public with the translated version of the document "Call to Action on FH" that will be published on our websites www.parsirdi.lv and www.parholesterinu.lv, as well included in the information for media representatives.
Romania
FOBAC and Centre for Innovation in Medicine.
The organization closely collaborates with the Centre for Innovation in Medicine  for different projects focused on communication and policy. Communication The Centre for Innovation in Medicine (InoMed) launched, in 2017, Raportuldegarda.ro a medical website which, just after a few months became the no.1 platform for communicating innovation in Romania. Some of the focus areas include – personalised medicine, immuno-oncology, biotechnology, digital health, prevention, health literacy. Some examples of projects related to FH:
FH Awareness Day

 

coverage

 

for the last 3 years and in 2020 also Rare Disease Day, focused on HoFH
FH related subjects are constantly an area of interest and content is created when relevant studies are

 

published, new drugs approved and we communicate about important events related to this subject
Policy
Each year, InoMed gathers major advances in medicine in the annual position paper State of Innovation, a document presented to the Romanian authorities and other stakeholders. This year, the document includes a chapter on FH. The document was presented in June, during an event called "Science Meets Politicians", which gathered members of the Romanian Parliament, representatives of the Government, Presidential Administration and industry. The annual position paper is structured in two main parts this year. One is about the emerging technologies and specialties such as genomics, gene and cell therapies, immuno-oncology, next-generation biopharmaceutical products. The second section, Re-Thinking Medicine, describes the way general understanding of diseases commonly considered as well known and understood, such as diabetes, psoriasis or cardiovascular disease, change due to advanced research.It is expected that, in the years to come, more and more diseases will be better understood, defined and reclassified. That surely includes FH and therefore it is important to raise awareness around personalised prevention, especially in the field of cardiology.The presentation of State of Innovation followed by a communication project on the InoMed Facebook Page – a series of live videos in which each chapter is explained. Dr. Marius Geantă, president of the Centre for Innovation in Medicine and FH Europe Trustee discussed those subjects in relation to a series of recommendations for the National Health Strategy for 2021-2027. The English version can be downloaded here. 
Future plans
We want to start from the concept of "Rethinking Medicine" and develop a campaign in which we talk differently about prevention and cardiovascular disease in the light of the latest advances in precision medicine. We will build this based on our experience with a previous campaign on cancer. For the FH Awareness Day we plan to make video and written content inwhich we explain some concepts around personalised prevention, updates on FH and set the stage for what comes next. The content will be shared on our platforms: the website – Raportuldegarda.ro, our Facebook Page, YouTube channel, Instagram, Twitter and of course on the FOBAC Facebook Page.
Italy
Conference
15th Lipid Club and Therapeutic Apheresis – a conference organized for the first time in collaboration between medical experts and a patient organization. This educational event is entitled Advanced course in clinical lipidology, metabolism disorders and prevention of atherosclerosis. Focus on new drugs and therapeutic apheresis. It is organised jointly by Mighty Medic and the National Association for Familial Hypercholesterolemia (ANIF), which is celebrating 20 years of activity on this occasion. It is dedicated to genetically determined dyslipidemias, including Family Hypercholesterolemia, hyperlipoproteinemia Lp(a) and family chylomycronemia syndrome (FCS). The meeting will take place in Rome on 3 and 4 September 2020. It willalso be streamed live on YouTube with a possibility to see it in English and Italian. See the full program here and watch it live via the link here. Among numerous national and international experts, acting as hosts will be Prof. Claudia Stefanutti, President of Mighty Medic and Head of the Regional Centre (Lazio) Extracorporeal Therapeutic Techniques – Severe Genetic Dislipidemias at the Department of Molecular Medicine of the Sapienza University of Rome and the Policlinico Umberto I, and Domenico Della Gatta, President of the ANIF Association.
For any question you can contact the project managers: Dr Barbara Sovrano and Dr Luigina Polini.
UK
National Cholesterol Month
To increase the impact and to extend the time any FH related messaging goes out, HEART UK focuses its efforts on the October
Cholesterol camping, where FH messaging will be interspersed. There will be a dedicated blog, featured on the website that sets out the UK's status against 9 recommendations in the Global Call to Action on FH. It will also be accompanied by social media activities.
Helpline
HEART UK- The Cholesterol Charity offers all year-round support and help for people living with and affected by high cholesterol, such as FH and other blood fat conditions. The Cholesterol Helpline is run by HEART UK nurses and dieticians. A wide range of written materials is also freely available.
Ambassadors
The organization also supports a network of "Ambassadors", who are people affected by cholesterol, including FH. They help organise peer- to-peer group meetings, assist in providing a patient perspective in decision-making and campaign in the media and seek to influence our Government on behalf of FH patients.
Scientific Conference
The charity offers education and professional development support, including a highly respected annual Scientific Conference for health care professionals and actively campaigns for service improvements, access to medicines and diagnosis of FH.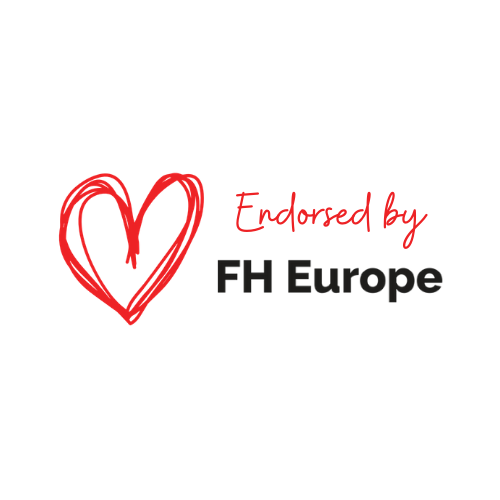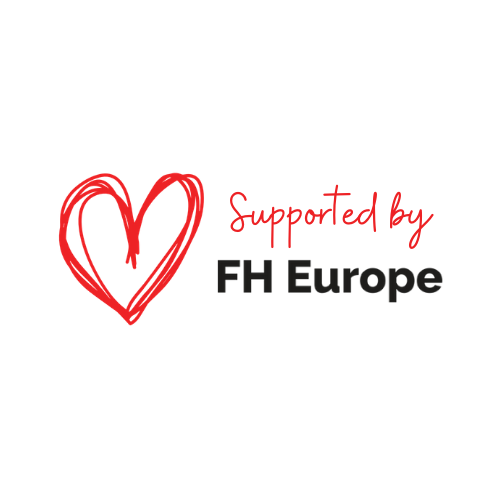 FH Europe is supported by an educational grant from Amgen Limited, Sanofi, Regeneron, Akcea Therapeutics Inc. and Amryt
Site by: Vovi Web Design