Another milestone achieved, FH paediatric screening publication in EHJ
Screening in children for familial hypercholesterolaemia: start now
Today, FH Europe welcomes the article on FH paediatric screening published in the European Heart Journal on 4 May 2022. Titled "Screening in children for familial hypercholesterolaemia: start now" and authored by three of FH Europe's scientific advisors Urh Groselj, Albert Wiegman and Samuel S. Gidding, the article reflects the spirit of the high level discussions on 11 October 2021, the deep commitment of all contributors – patients, scientists, policy makers and shapers – and the sense of urgency around FH paediatric screening in Europe with a clear roadmap for action.
Familial Hypercholesterolaemia – in short FH – means dangerously high levels of cholesterol in blood, which are passed down in family. This genetic cardiovascular risk factor affects one out of 250 to 300 Europeans, regardless of their age, race, diet and lifestyle and does not discriminate between women and men. When undiagnosed and untreated, the likelihood of causing cardiovascular disease at an early age is very high, with premature heart attacks and death a frequent outcome. There is a huge unmet need – with estimated 34 million patients and citizens with FH worldwide, and 2.5 million in Europe alone. Among them less than 10% of affected Europeans are currently diagnosed – and less than 5% of Europe's children.
The topic of FH and its timely diagnosis was raised in a landmark World Health Organization (WHO) Report on Familial Hypercholesterolemia (1998), following a meeting in Geneva with, arguably, too little progress since then. The key to resolving the issue prevailing for over 20 years is implementation of universal FH paediatric screening combined with other screening models. The overriding message from the high-level technical meeting on FH paediatric screening on 11 October 2021 under the Slovenian EU Presidency was "The time to act is now". In the EU and the wider Europe screening in children is achievable, with right political will, smart investment and genuine partnership that include patients and citizens as equal players. Last October, there was a very strong consensus on and affirmation of commitment to ensure FH paediatric universal, cascade and opportunistic screening to all who need and choose it, across Europe. Prof Kausik Ray, President of the European Atherosclerosis Society called the publication "a hugely important statement of intent and a framework for the future."
The universal screening in children for FH, brings immediate benefits to the individuals, families and the whole health system. It allows to directly identify children (index case) with FH and through reverse cascade screening, their affected parents and other blood relatives, who by the time of adulthood most probably have developed atherosclerosis, yet further life-threatening consequences like premature heart attack or stroke could be still prevented.
"Familial hypercholesterolemia is the most common life-threatening inherited metabolic disorder in humans, severely under-diagnosed, but easily treatable once diagnosed. Prevention of cardiovascular complications of FH needs to start in childhood to be successful. To achieve that, we need to screen for FH in all children. Urgently, we need to unify all the stakeholders to make childhood FH screening reality." – said Asst. Prof. Urh Grošelj from Slovenia, who together with FH Europe led the Technical Meeting efforts, in collaboration with the Slovenian Ministry of Health.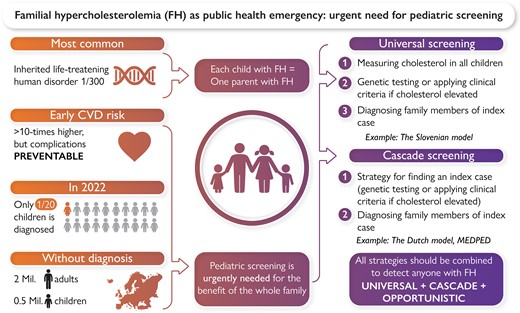 The meeting, initiated by the Network of FH patient organizations under the umbrella of FH Europe, explored good practices in FH paediatric screening in several EU countries: Slovenia; the Netherlands; the Czech Republic and France, which can inspire the community and policy makers moving forward, showing what is really possible and its impact on people's lives. (You can watch the full recording of the Technical Meeting here).
It also brings to life current wider discussions on the need for a dedicated EU Action Plan on Cardiovascular Health, calling for a comprehensive EU policy response to improve the cardiovascular health of European citizens, led by the European Alliance on Cardiovascular Health (EACH), of which FH Europe is a member.
Nicola Bedlington, Senior Policy Advisor to FH Europe and moderator of the October Technical Meeting underlined the importance of the article "All of the arguments and evidence– scientific, political, economic, and most of all human – shine through. We now need to move to implementation". Dr Sam Gidding, who chairs the Scientific Advisory Committee at FH Europe, concurrently with scientific group at the World Heart Federation and is the senior author of the Global Call to Action on FH from 2020, added "Several European countries have led the way in demonstrating that FH care beginning in youth saves lives. It is now time to extend these learnings to every child and their families in Europe, and beyond".
Magdalena Daccord, Chief Executive of FH Europe said "I am delighted to see this article published: it is another important milestone in our journey towards ensuring we prevent the preventable, that we avoid the tragic consequences of non-diagnosis. The article is a fantastic "preamble" to our upcoming meeting in September, this time, under the auspices of the Czech EU Presidency, which will unpack the barriers, and new opportunities to initiate real change throughout Europe".
The next landmark event to making paediatric screening for FH in Europe possible, is scheduled for 6th September 2022 in the Czech's Senate, where FH Europe in partnership with its member – Diagnoza FH is organising a meeting under the auspices of the Czech EU Presidency, which will address any implementation barriers.

---
More information about FH Europe www.fheurope.org
FH Europe is a network of 29 patient organizations across wider Europe focusing on inherited dyslipidaemias like FH, its rare form HoFH, elevated Lp(a) and a rare condition FCS. FH Europe actively works to secure early identification and diagnosis of FH (Familial hypercholesterolaemia) patients to prevent early cardiovascular disease. FH Europe aims at sharing information and best practice across Europe, work with experts to focus on themes and topics of interest to the patients and families we represent and supporting development of newer or smaller patient groups and individuals wanting to start a patient group.
More information about the FH Paediatric Screening Project
The project of FH Paediatric Screening was initiated as a result of a successful submission of FH paediatric screening best practices to the European Commission Public Health Best Practice Portal in in 2019 and published in January 2021. As a result of collaboration with EURORDIS, of which FH Europe is a member, an ambition to hold a joint high-level meeting under the Slovenian EU Presidency in October 2021 was born. The project encompasses various advocacy activities, meetings and now creation of national FH Screening Taskforces. These activities have been possible thanks to the efforts of FH Europe's volunteers and unrestricted financial support of FH Europe's industry partners: Amgen, Amryt and Novartis. (You can read more here.)
FH Europe is supported by an educational grant from Amgen Limited, Sanofi, Regeneron, Akcea Therapeutics Inc. and Amryt
Site by: Vovi Web Design