The Time is Now: Cardiovascular Disease as an EU Priority
The Time is Now: Cardiovascular Disease as an EU Priority: achieving FH paediatric screening across Europe
Fewer victims, healthier lives, at lower cost
Key points, context, facts and figures on a non-communicable disease that concerns 2.5 million people in wider Europe
October 2021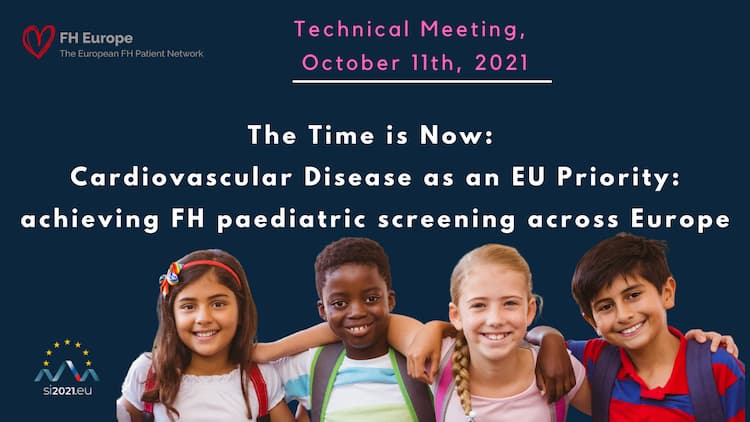 Early-stage diagnosis and treatment of Familial Hypercholesterolemia, a genetic condition that causes heart attacks in early life, and affects about 300,000 children and 1.200.000 adult EU citizens, should be introduced in the EU and Southeast Europe, through an initiative linked to the Slovenian EU Presidency.
On Monday, 11 October 2021, a Technical Meeting will take place on ´Achieving Equity and Innovation in Newborn Screening and in Familial Hypercholesterolemia (FH) Paediatric Screening across Europe´. [1]
The scientific name, Familial Hypercholesterolemia – or FH – describes a genetic variation[2] that increases levels of harmful or bad LDL cholesterol in the blood. When untreated, it leads to cardiovascular disease (CVD) in young adulthood and rarely childhood, with premature heart attacks, stroke, and even death being a frequent outcome.
Those with FH will be affected by high cholesterol beginning at conception. This is in contrast to unaffected Europeans (without this genetic trait) who develop dangerously high levels of cholesterol later in life, because of lifestyle such as the quality of food and drink, and lack of exercise, modifiable risk factors. FH is the most common inherited and life-threatening disorder globally, it is severely underdiagnosed, with over 90% of the globally affected population undetected and undertreated. In addition, FH has a very rare and severe form. It occurs when a child inherits two "faulty" genes and has onset of heart disease in childhood.
2,5 MILLION EUROPEANS AFFECTED
It is estimated that there are about 2.5 million Europeans affected with FH. Of them 300,000 children and 1.200.000 adults with FH in the European Union alone. However, less than 10% of Europeans and 5% of children in Europe have been diagnosed. Studies show that FH is typically diagnosed late in life (44 years of age), 17% of people with the condition have already had a heart attack. 50% of affected men will have heart attacks by the age of 50 years, and 30% of women will have heart attacks by age 60 [4]. However, if cholesterol lowering treatment begins in childhood, then these heart attacks can be almost completely prevented. Currently, available treatments do not reach the large majority of people affected, causing grave illness when adults reach their thirties and forties.
The Familial Hypercholesterolemia Studies Collaboration collects and publishes data on FH from most European countries. "The challenges of FH were highlighted by a World Health Organization (WHO) Report on FH in 1998.5 However, progress in implementing the recommendations to address these challenges has been limited. As an inherited condition, FH is diagnosed too late, on average in the mid-40s, meaning that many years elapse before patients are identified and treatment is started. Late diagnosis also potentially misses out on opportunities to address other cardiovascular risk factors which become more prevalent with increasing age. Effective, systematic screening for FH must start in childhood to detect those affected much earlier." Said Professor Kausik K. Ray, (Imperial College London, UK), President of the European Atherosclerosis Society, EAS FHSC Registry Lead.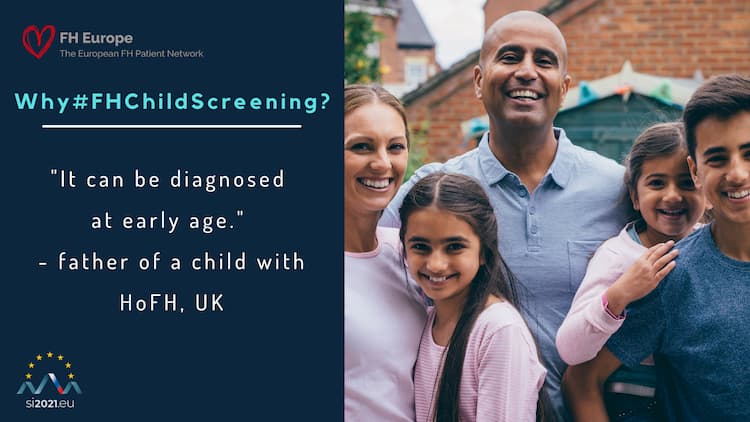 EARLY SCREENING IS KEY
The first country to start systematically identifying citizens with FH was the Netherlands, beginning in 1994. This program was based on genetic testing, screening potentially affected relatives of FH patients and starting treatment on those identified. After statins were introduced as a treatment in the early 1990s, heart attack rates were reduced in Dutch FH patients by as much as 75%, When cholesterol lowering treatment was started in childhood and continued until age 40 years, only 0.5% of those treated children had heart disease in contrast to 28% of their affected parents. In fact, 7% of the affected parents had died, while none of their early treated children had died. "Diagnosing FH early in life is a life-saving opportunity that is currently being missed" say Albert Wiegman MD of the Amsterdam Medical Center and Samuel Gidding MD, trustee of FH Europe. The Dutch program has shown cost-effective solutions to the problem exist and can be effectively implemented. Similar programs have been operating in Spain, the Czech Republic, Slovakia, and Norway.
In Slovenia in 1995 the first attempt worldwide at universal screening was undertaken, by introducing mandatory cholesterol testing at the age of 5 years, through primary care paediatricians. Slovenia now reaches approximately 91% of their population of around 20,000 children each year. The universal FH screening programme uses a 3-step approach: (1) Total cholesterol measurement; (2) Children with elevated total cholesterol undergo further FH diagnostic testing; (3) Testing of family members of affected children similar to the Dutch program.
Despite existing models and proven cost effectiveness, FH screening is not yet a norm across the EU.
Two French patients with FH, who will address the meeting, said:
"My feeling today is that early testing is crucial; awareness and understanding is crucial – and the addressing mental health impact of fear, isolation and taboo is crucial. If we can protect our children and future generations from this, through screening, the impact will be enormous" – said Veronique Schaal.
"As I see it, there is good practice on FH paediatric screening in some parts of Europe. Surely, it must be a right for all EU citizens who wish to, to have access to screening. And as well as universal screening, we need to think about raising awareness and understanding among the Public at large, about FH and how this can be addressed effectively, to protect lives." added Charlotte Lemaitre, from Anhet.fr – the French National FH Patients Association.
EQUAL TREATMENT THROUGHOUT THE EU
Since measures to recognize FH (and other rare diseases that can be identified and treated when recognized early in life) are unequally available in EU Member States and SE Europe (as indeed throughout the world), the Slovenian EU Presidency has framed the theme of the technical meeting as "Achieving equity and innovation in newborn screening and in FH paediatric screening across Europe". The event will bring together almost 40 speakers – policy makers and experts from EU member states, the medical profession, health researchers, and patient representatives.
It is hoped that the Slovenian EU Presidency will reference the main outcome of the Technical Meeting in discussions with the next EU Presidency Trio – commencing with France, thereby providing a basis for further action by the European Commission and the Member States under the new and strengthened EU Health Programme (EU4Health).
"This Technical Meeting is a testimony to the collective power of FH community across Europe – patients and patient advocates, scientists, clinicians coming together in agreement. Now the time is ripe for the next step. Let's not get disheartened by the size of the FH problem but be motivated and get inspired by the potential of lives we can save and the long-lasting impact for CVD prevention we can make." – added Magdalena Daccord, Chief Executive of FH Europe.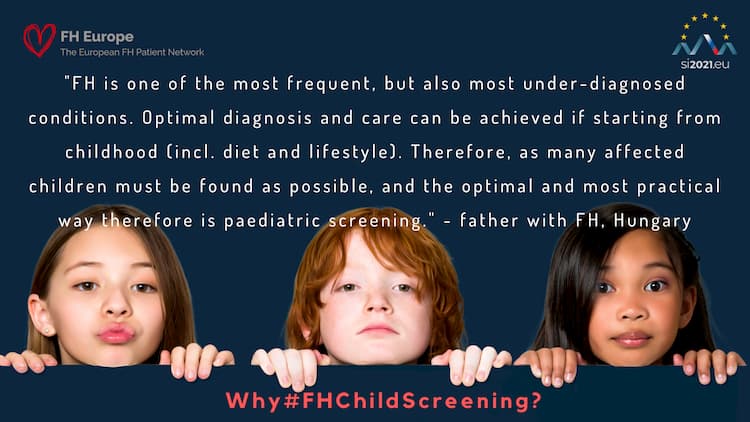 KEY RECOMMENDATIONS FROM THE ACTION PLAN
Every European country should have a familial hypercholesterolemia (FH) screening, diagnosis, and care program focused on childhood identification and treatment.
The program should use genetic, childhood, and opportunistic methods to identify those affected.
Government budgets should support FH education, care, and screening.
Further research should support registries to document care and identify best strategies to implement screening and personalized care..
Critical tools and link
Contacts
Magdalena Daccord,
Chief Executive , FH Europe
md@fheurope.org
0041789084252
Information about FH Europe
The European FH Patient Network of 26 patient organizations across Europe, actively working to improve Europe-wide awareness, understanding, and access to diagnosis and treatment of inherited lipid conditions, (specifically Familial Hypercholesterolaemia (FH) and its rare and severe form Homozygous FH, elevated Lipoprotein (a) – Lp(a), Familial chylomicronaemia syndrome (FCS)), so that all those impacted receive optimal treatment and support, resulting in longer and healthier lives.
---
[1] https://slovenian-presidency.consilium.europa.eu/en/events/achieving-equity-and-innovation-in-newborn-screening-and-in-familial-hypercholesterolemia-paediatric-screening-across-europe/
[2] Prevalence of Familial Hypercholesterolemia Among the General Population and Patients with Atherosclerotic Cardiovascular Disease, A Systematic Review and Meta-Analysis Pengwei Hu, Kanika I. Dharmayat, Christophe A.T. Stevens, Mansour T.A. Sharabiani, Rebecca S. Jones, Gerald F. Watts, Jacques Genest, Kausik K. Ray, Antonio J. Vallejo-Vaz Originally published 29 May 2020 https://doi.org/10.1161/CIRCULATIONAHA.119.044795Circulation. 2020;141:1742–1759 , https://www.ahajournals.org/doi/full/10.1161/CIRCULATIONAHA.119.044795
[3] low-density lipoprotein cholesterol (LDL-c)
[4] EAS Familial Hypercholesterolaemia Studies Collaboration (FHSC). Global perspective of familial hypercholesterolaemia: a cross-sectional study from the EAS Familial Hypercholesterolaemia Studies Collaboration (FHSC). Lancet. 2021 Sep 7:S0140-6736(21)01122-3. doi: 10.1016/S0140-6736(21)01122-3. Epub ahead of print. PMID: 34506743
Endorsed by: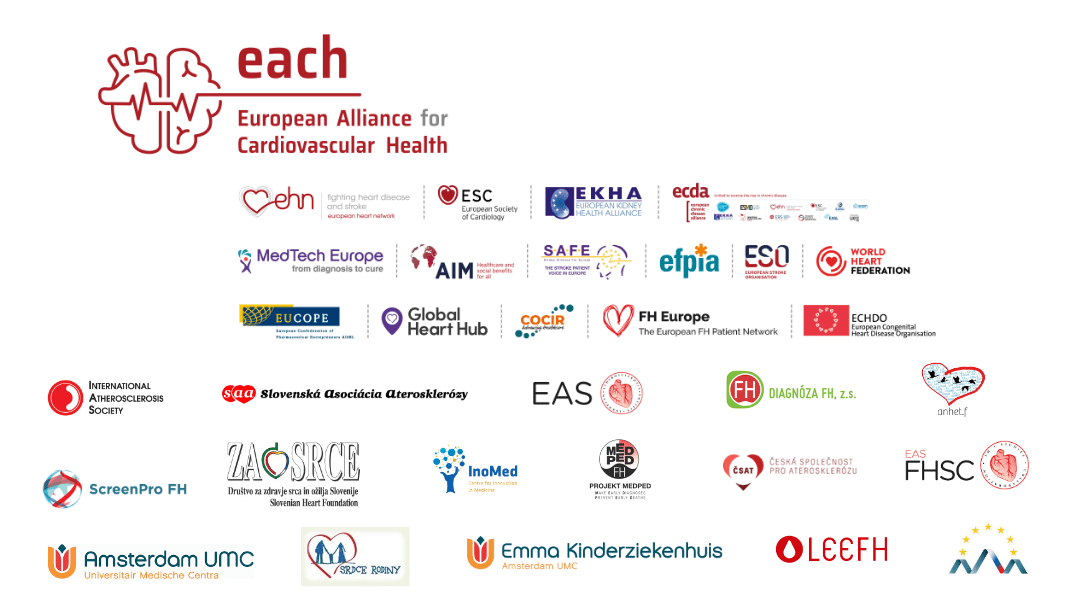 FH Europe is supported by an educational grant from Amgen Limited, Sanofi, Regeneron, Akcea Therapeutics Inc. and Amryt
Site by: Vovi Web Design