WHF Roadmap for Cholesterol – Update
High cholesterol is a major a risk factor for cardiovascular disease. If left untreated, it can lead to atherosclerotic cardiovascular disease (ASCVD), which is responsible for 85% of the 18.6 million cardiovascular disease (CVD) related deaths worldwide every year.
Today, the World Heart Federation (WHF) is launching a new Roadmap aimed at reducing the global burden of ASCVD. Atherosclerosis is a silent condition caused by high cholesterol that develops throughout a person's lifespan and can lead to sudden death. The new WHF Roadmap for Cholesterol, which builds on the previous 2017 edition, shows how targeting cholesterol can help reduce atherosclerotic cardiovascular disease and save lives. The updated Roadmap provides evidence-informed guidance on priority interventions for high cholesterol that can be adapted to local contexts, identifying potential roadblocks to the prevention and management of high cholesterol and offering evidence-informed solutions to overcome them.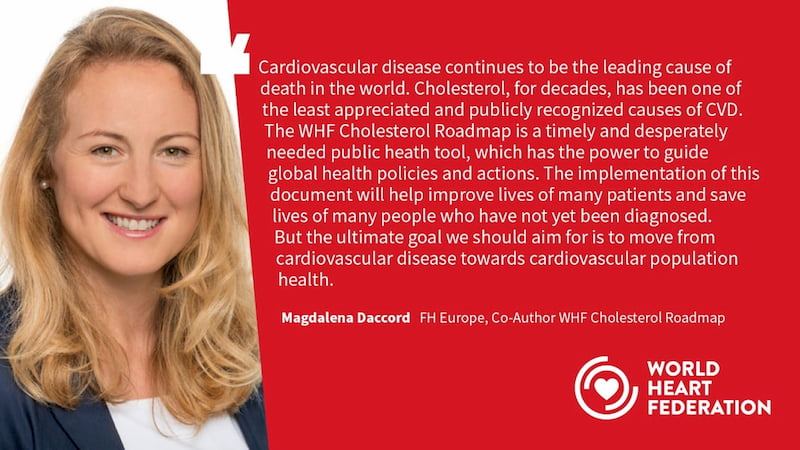 FH Europe is delighted to have had the opportunity to represent the voice of people affected with inherited lipid conditions like FH/HoFH and elevated Lp(a) and to contribute to this important public health policy document. We welcome the importance put on preventive strategies which should be updated to implement health policy, lifestyle changes and when needed pharmacotherapies earlier with investment in, and a shift in focus towards, early preventive strategies that preserve cardiovascular health rather than treat the consequences of ASCVD.
FH Europe is supported by an educational grant from Amgen Limited, Sanofi, Regeneron, Akcea Therapeutics Inc. and Amryt
Site by: Vovi Web Design