Welcome to our Sr Policy Projects Manager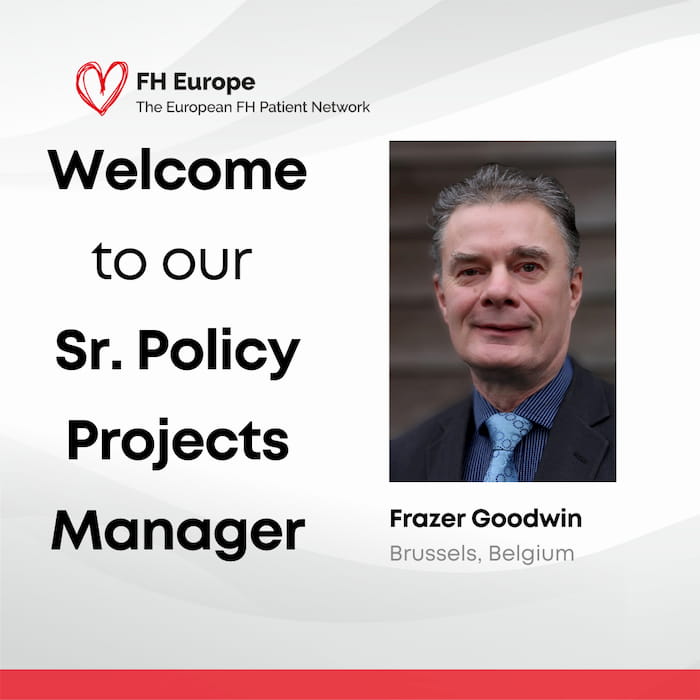 Frazer Goodwin joins FH Europe as Senior Policy Projects Manager on February 1st, 2022.
In this newly created role, Frazer's focus for the forthcoming period will be on the EU policy dimension to promote FH paediatric screening across the EU. As such he will be working very closely with the FH Europe's member organizations to strengthen their capacity to engage with national and EU policy making. In particular, though not exclusively, this will be in countries of current and forthcoming EU presidencies in order to build upon the success of last year's high level Technical Meeting under the Slovenian EU presidency. In his role Frazer will be instrumental in building multistakeholder national Task Forces, promoting and advocating for implementation of universal early FH screening programmes. Alongside the Network member organizations, he will be collaborating with FH Europe's Scientific and Policy Advisory Committees as well as European and international partner organizations focused on CVD prevention, health promotion and patient advocacy. Frazer will also be involved in building of the FH Europe's Patient Ambassador Programme – a critical tool to empowering the Network to effectively advocate on the national and international level.
"We are thrilled to be joined by Frazer and look forward to building on his extensive experience working in the Brussels environment in the advocacy space. The FH child screening project as well as the Ambassadors Programme are our strategic initiatives underpinning our organizational mission. I am convinced that together with Frazer we will be able to activate our wider Network and successfully deliver on our mission" said Magdalena Daccord, FH Europe's Chief Executive.
Frazer is from Coventry in England and has lived in Brussels for over 30 years since completing his Masters at the VUB Faulty of Medicine and Pharmacy. Over that time he has worked on international and EU policymaking with a focus on public health and human rights, particularly children's rights. This has seen him facilitate and aid coordination of a number of civil society networks on issues from reducing traffic pollution and protecting vulnerable road users, to development cooperation for Global Health and children's rights. This has latterly seen him assisting as a consultant in the formation of a European campaign on early childhood development: "First years first priority!"
FH Europe is supported by an educational grant from Amgen Limited, Sanofi, Regeneron, Akcea Therapeutics Inc. and Amryt
Site by: Vovi Web Design