Paediatric screening and Technical Meeting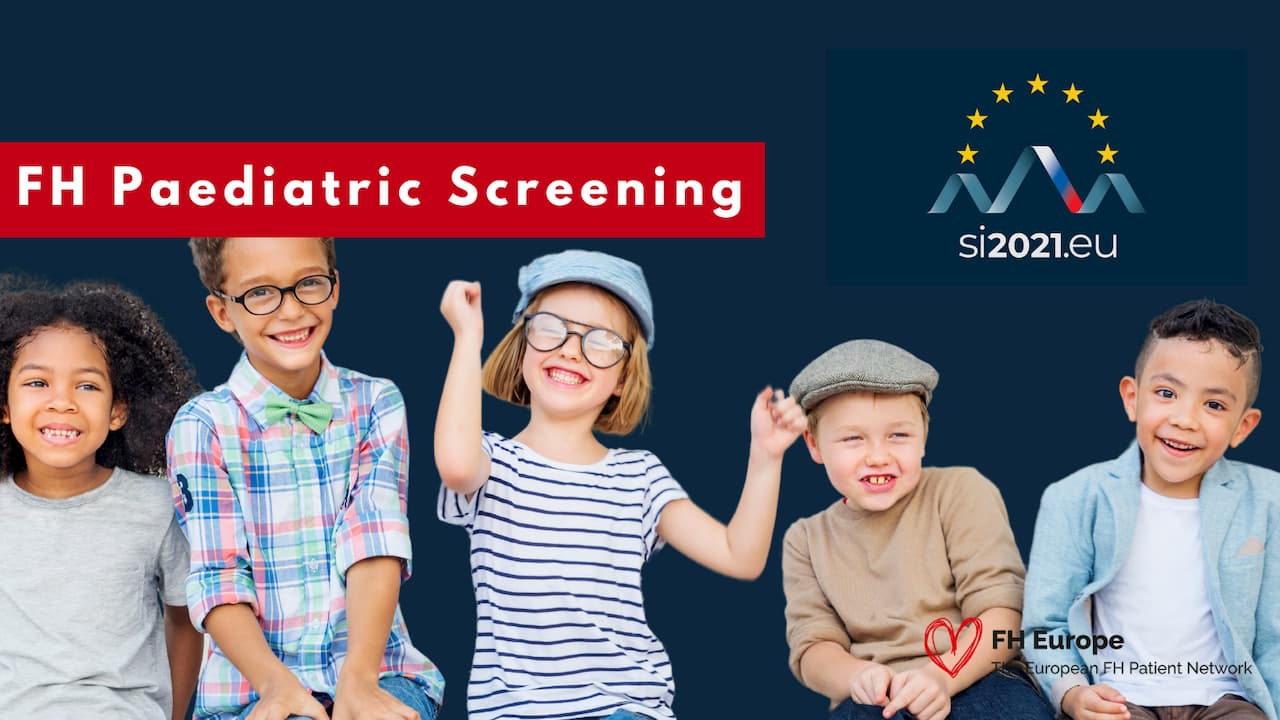 FH Europe is embarking on one of its biggest programmes yet – to ensure familial hypercholesterolaemia (FH) paediatric screening is made available, throughout the EU and wider Europe, to all who need and choose it. Together with renowned clinical experts in the field of FH, policy makers and patient advocates, FH Europe will co-organise a technical meeting under the Slovenian EU Presidency. The meeting will have two parts, the morning one dedicated to newborn screening in general, and the afternoon dedicated to FH screening exclusively. This is the first step in a longer-term project, and part of the organization's strategy to improve and save lives of families affected by inherited dyslipidaemias.
"Achieving equity and innovation in newborn screening and in familial hypercholesterolemia paediatric screening across Europe is an accompanying event under the auspices of the Slovenian Presidency of the Council of the European Union 2021."
Find the first announcement here
Slovenia has been a model country for paediatric screening for FH as an effective approach to detect this severely underdiagnosed inherited disorder. The Slovenian programme, together with examples from the Netherlands and Czech Republic, have been assessed as "best" practices by the European Commission's Evaluation Committee, advancing public health and the UN Sustainable Development Goal on Health.
The WHF White Paper on Cholesterol recognised the Slovenian programme as a possible model for FH-screening and potentially a model for new-born screening in general.
Under its EU presidency, Slovenia is spearheading an initiative aimed at enhancing the cooperation towards equity in provision of paediatric screening within the EU and South-East Europe.
We are therefore inviting relevant stakeholders to participate in this technical meeting to explore ways forward. These include policy makers at EU and national levels; patient organizations; representatives of the main professional organizations, regulators and HTA agencies.
The meeting, to be held on 11 October 2021, will explore opportunities, barriers, challenges, and solutions linked to FH Paediatric screening. In the framework of this meeting, FH Europe will launch an Action Plan to address unmet needs, building on existing experience across Europe.
The overall objectives of the technical meeting are
To identify best practices in the field of FH screening and how they could be replicated and taken to scale
To assess the fundamental challenges, barriers, and opportunities to achieve equity of access to FH paediatric screening across Europe
To explore and agree next steps to ensure a systematic and comprehensive approach in Europe that leaves no-one behind
The target audience includes high-ranking politicians and policy makers from the EU and wider Europe. The outcome of the technical meeting, a key milestone, will pave the way for a major FH Europe communication and advocacy campaign to implement paediatric screening in all EU member states, and end the current unacceptable inequalities facing our communities. FH Europe has secured the endorsement of the meeting by the World Heart Federation (WHF), the European and the International Atherosclerosis Societies (EAS and IAS) and the Global FH Registry (EAS FHSC). We anticipate endorsement by several other major organisations soon.
This is a unique opportunity – and will only happen if our voice is loud and united enough. FH Europe would love to count on your support.
Here is how you can get involved
Check out the program and register now to join the live event on October 11th
Reach out your politicians and networks to support this initiative and to join the event
Take a quick survey to help to shape an action plan on paediatric FH screening 
Be active on social media – follow #FHchildscreening and use this toolkit (coming soon!)
We would like to acknowledge and thank our special taskforce group with Prof. Urh Groselj, Prof. Samuel Gidding, Prof. Albert Wiegman, Prof. Tomas Freiberger, Dr Marius Geanta, and Magdalena Daccord, Antoni Montserrat Moliner, the FH Europe Scientific and Public Health Advisory Committee, as well as our partners, experts, advisors and contributors involved in the project. FH Europe is also pleased to welcome Nicola Bedlington, Millwater Partners, as senior advisor to the programme.
Watch this space, more information is coming your way!
FH Europe is supported by an educational grant from Amgen Limited, Sanofi, Regeneron, Akcea Therapeutics Inc. and Amryt
Site by: Vovi Web Design