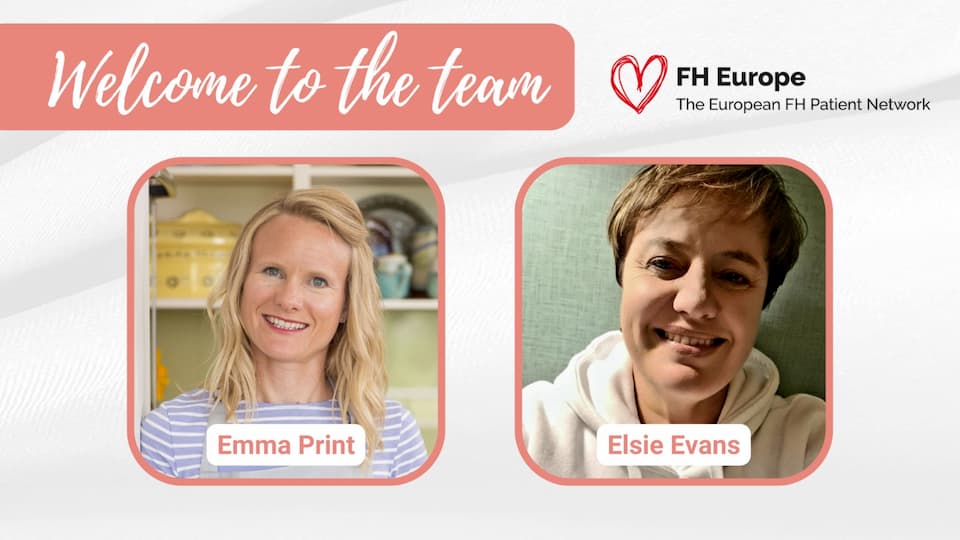 It is finally happening! Our team is growing to deliver the impact we aspire to create for families with inherited lipid conditions. After our recent appointment of Jill Prawer as Rare Disease Project Manager, we welcome on board Elsie Evans and Emma Print.  
Elsie Evans, known to her friends and family as Cindy, joins our team as an Ambassador Program Manager.  She has been a teacher for 20 years. Elsie is an Assistant Headteacher working in a primary school that specializes in Special Educational Needs and Disabilities (SEND). As a Qualified Special Education teacher, she possesses extensive knowledge of adapting the curriculum and implementing effective teaching strategies to meet the unique needs of students with diverse learning abilities. Elsie loves to travel, so she says it has been difficult to balance treatment with personal growth.
"Elsie brings a wealth of experience to the organisation, both as a professional and as a rare disease patient and advocate. In order to equip our current and future Patient Ambassadors with the knowledge and tools they need to effectively advocate and to support the community, we need a robust learning progamme and Elsie is just the person who can turn our aspirations and needs into reality." – says FH Europe's Chief Executive, Magdalena Daccord.
Elsie is also a person living with HoFH. She was diagnosed with the rare and severe form of inherited high cholesterol in her early childhood. She is excited to join a team that is raising awareness of HoFH, a condition she has had since she was three and a half.  For Elsie, it has been a challenging journey with healthcare, but new treatments are improving the situation.  A new medication trial has been a game-changer for her, and she is passionate about educating others about the condition. Volunteering with HEART UK and being involved with FH Europe, she hopes to create a community where patients can support each other and improve their well-being.
Elsie says: "I am absolutely thrilled to be working with this amazing team! I can't wait to dive in and learn everything I can and contribute to the community by getting our stories out there. Let's do this!"
Emma Print joins us as a Community Engagement Manager. She also has first-hand experience with living with inherited lipid disorders, as she has been diagnosed with FH and high levels of Lp(a) in 2016, 3 years after losing her Mum to a heart attack, and then losing her Dad to CVD that same year. Even though she has "hit the inherited jackpot combination", as she likes to say, Emma does not let her conditions stop her from doing what she loves and prefers to say that she 'lives' " with them.
Emma has a very healthy and active lifestyle. She trains 4 hours a week and competes in regional and national adult gymnastics competitions, sails, and has worked as a chef on different superyachts for 12 years, even crossing the Atlantic. In her spare time, she helps others as a qualified personal trainer, hypopressives instructor, and nutritionist. Prior to that, Emma worked in a pan-European role as an Account Manager for GSK and Eurostar. Over the recent years, she also has been volunteering with HEART UK and most recently with FH Europe as a Patient Ambassador.
"Being the Community Engagement Manager for FH Europe is my dream job! I'm really looking forward to engaging with patient organisations and the greater lipid community on an international level whilst driving awareness on a subject I feel very passionate about!" says Emma.
Those recent appointments mark an important milestone in FH Europe's history. As we build on the achievements to date, it is strategically important to build a team of people with the right set of skills, professional and personal experience, and who share the same mission and work values.  As FH Europe transitions from a charity registered in England and Wales to a foundation with a new address in Amsterdam, the Netherlands, we are excited to bring on board fresh perspectives, new energy and simply put – wonderful people.
We are delighted to have Emma and Elsie on our team!
FH Europe is supported by an educational grant from Amgen Limited, Sanofi, Regeneron, Akcea Therapeutics Inc. and Amryt
Site by: Vovi Web Design