First webinar dedicated to FCS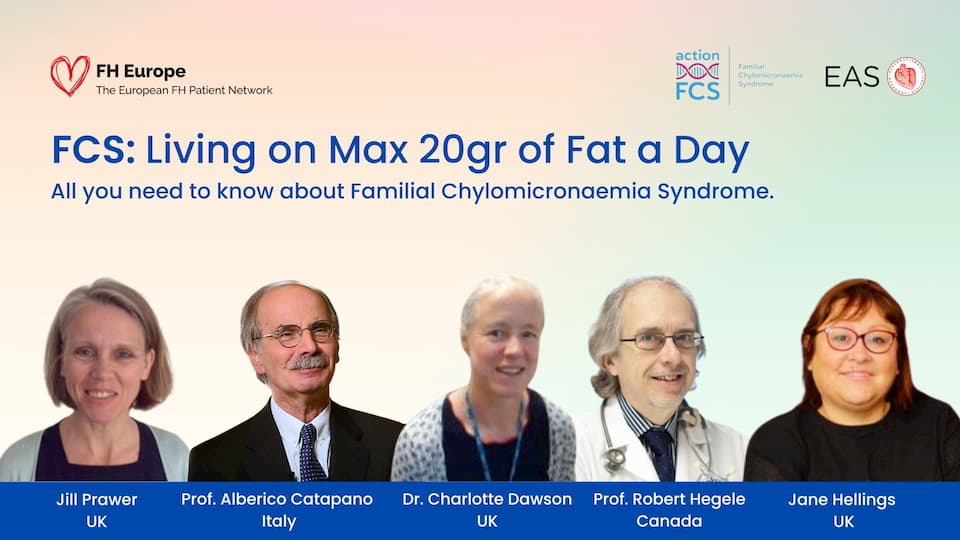 Can you imagine living on no more than 20 grams of fat a day? This is the reality for people living with Familial Chylomicronaemia Syndrome (FCS), as it represents a crucial way for managing their disease and symptoms.
On 19 January 2023, FH Europe, in partnership with Action FCS and EAS, prepared a webinar, dedicated entirely to Familial Chylomicronaemia Syndrome (FCS), with the title FCS: Living on Max 20gr of Fat a Day.
On the expert panel we had five fantastic speakers, who represented patient and carer perspectives, as well as the perspectives of researchers, and clinicians who see patients with FCS every day.
It was extremely emotive hearing the patients' lived experiences, which made the session very powerful right from the start and relatable to many in the audience.
Jill Prawer, founder of Action FCS, and Jane Hellings, both patients with FCS, from the UK, shared their personal stories, of living with this inherited and rare lipid condition while managing the complexities of a very restrictive, very low fat diet. Very often the only tool to manage FCS.
Dr Charlotte Dawson from the UK and Prof. Robert Hegele from Canada helped the participants to understand FCS from the medical perspective, zooming in to disease pathophysiology and genetics. Prof. Alberico Catapano from Italy ended the webinar highlighting the disease rarity and therefore high price of treatments, while low fat diet remaining an important disease management tool. There was however a message of hope around upcoming novel treatments and the need for patients' community to be involved in the drug development process.
We received and responded to several questions during the webinar. However, some remained unanswered and we are providing the answers below.
Q1: Do you think FCS is an underdiagnosed condition? If so, why is that?
Prof. Alberico Catapano: Yes. Many are not diagnosed especially in developing regions. Referral to gastroenterologists who are not aware of the disease may also be one reason.
Jane Hellings: Yes, in my experience it is assumed you are abusing alcohol or have gallstones, but no further checks are made when admitted to hospital.
Q2: Carbs/sugars = How much fat? Is there a recommended amount per day for carbs/sugar like there is fat other than eat less?
Prof. Alberico Catapano: Not that I am aware of.
Jane Hellings: In my experience and after speaking to my consultant I have a higher than average carb intake, as the only way I can have a low fat diet is to make sure I am full. As I am diabetic I carb count and use my insulin accordingly.
Q3: Statins are being encouraged for many older people, has there been any association of statins triggering pancreatitis in FCS?
Prof. Alberico Catapano: Not that I am aware of.
Jane Hellings: Not that I know, so I am not able to comment on this.
To learn more about FCS visit the Action FCS website.  
This webinar is part of the FH Europe Ambassadors programme, developed with the support of the European Atherosclerosis Society and our industry partners.
FH Europe is supported by an educational grant from Amgen Limited, Sanofi, Regeneron, Akcea Therapeutics Inc. and Amryt
Site by: Vovi Web Design