FHchol celebrates its 10th anniversary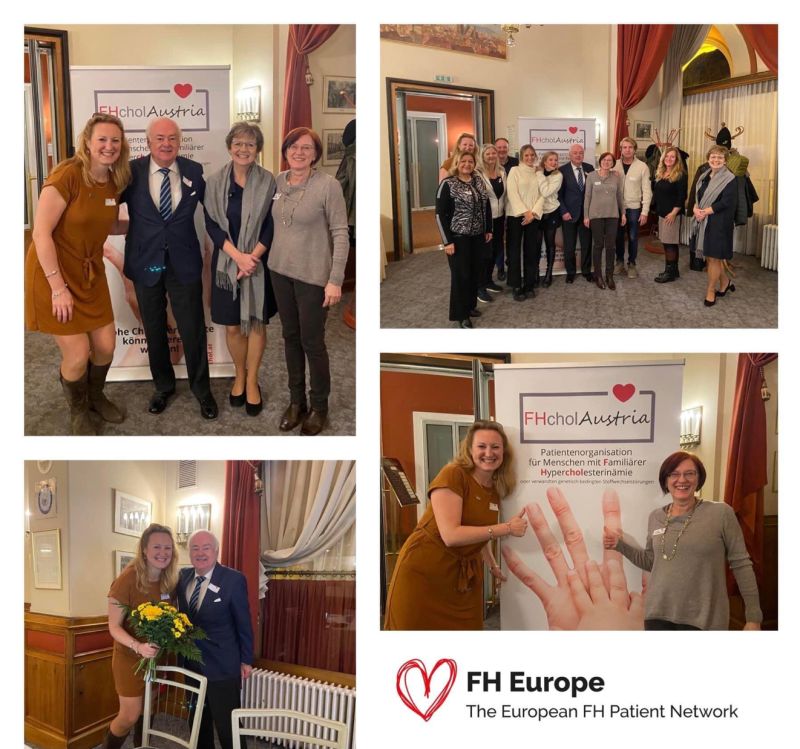 On Friday, November 19th, FHchol's members came together at an annual meeting and celebrated the organization's 10th anniversary. It was a hybrid event, allowing the members to join online, or in person for the first time in a long time, and just before a new nationwide new lockdown. The reunion took place in Vienna, Austria.
On the occasion, Anna Andrea Böhm, the FHchol's Chairperson, presented a joint project in collaboration with Pro Rare Austria. As part of the aRAREness project to create sustainable structures for self-help in hospitals, FHchol had the opportunity to shoot a video clip (in German), which shows the personal added value of self-help groups for FH patients and will be shown in the waiting area at the pilot location of AKH Vienna / Children's Hospital.
Michaela Wolf, FHchol Austria's founding member and Cholco e.V. Germany Chairperson, shared with everyone the history of the organization. Prof Kurt Widhalm, President of FHchol Austria Scientific Board and a Member of FH Europe's Scientific Committee, delivered a presentation about the urgency to detect FH early and to treat it optimally. He also highlighted the importance of running a national register and shared some preliminary data on early treatment of children with FH from Austria. The lecture was followed by a presentation by Magdalena Daccord. FH Europe's Chief Executive updated the Austrian patients' community about the Technical Meeting on FH paediatric screening and the momentum created to advocate nationally for making early /child screening for FH a reality in every European country. She also presented the FH Ambassadors project and invited any interested volunteers to join the capacity building opportunity which will be launched in 2022.
In memory of Gaby Hanauer-Mader, who suddenly passed away in 2019, the team at FHchol Austria created an award named after the internationally recognized and respected FH campaigner and cofounder of FHchol. The accolade was awarded to Prof. Kurt Widhalm in November 2020 and in 2021 to Michaela Wolf, during the celebratory evening.
FH Europe is supported by an educational grant from Amgen Limited, Sanofi, Regeneron, Akcea Therapeutics Inc. and Amryt
Site by: Vovi Web Design