Choose to challenge – women's heart health
FH Europe is supporting International Women's Day 2021. Each year, on the 8th of March, International Women's Day is celebrated to recognise the achievements of women while calling for greater gender equality. This year's theme for International Women's Day is "Choose to Challenge" and we, at FH Europe, are choosing to challenge common heart health beliefs and share some of the realities of female heart health that are seldom addressed.
When it comes to heart disease, women are still being left behind. Coronary heart disease is still seen as a "man's illness", however in the US, 1 in 4 women die from heart disease, and in Europe, cardiovascular disease kills 51% of women compared to breast cancer which causes 3% of deaths.
Dr Susanna Price, ESC spokesperson and consultant cardiologist at the Royal Brompton Hospital in London, UK, said: "Women's risk of heart disease tends to be underestimated by both the public and the medical profession because of the perception that oestrogen protects them. In reality, this just delays the onset of CVD by 10 years. The result is that women's risk factors are left untreated, leaving them more vulnerable to heart attack, heart failure and sudden cardiac death when the protection fades after menopause."
Familial Hypercholesterolaemia (FH) is an inherited condition that leads to levels of cholesterol that are up to four times higher than that of the general population. As a result, it leads to premature CVD, heart attacks and stroke. FH is common, however under-diagnosed, and under-treated. Disparities of care of FH are more pronounced in women than men. Women with FH experience specific barriers to care including underrepresentation in research, significant underappreciation of risk, and interrupted therapy during childbearing. Additionally, FH weighs differently on women throughout their lives starting from choosing contraceptives as young girls along with lipid-lowering therapy, timing pregnancy, choosing breastfeeding or resumption of therapy, and finally deciding goals of care during menopause.
At FH Europe, we believe that everyone deserves the same level of care, regardless of gender, age and nationality. So this year, to mark International Women's Day, FH Europe's female advocates, patients and friends are offering once piece of advice that they wish they had been given about their heart and health journey. From practising self-care to helping to identify issues, each piece of advice helps to increase awareness, ensuring that women recognise and prioritise their heart health and can identify and reduce their risk factors and decrease their chances of cardiovascular disease. Despite the call for gender equality, women more often than men, fullil multiple roles in the family and society. The ongoing pandemic situation has added an extra layer of responsibilities, stress and pressure on women, while limiting access to healthcare, routine check-ups, exposing them to a greater risk of CVD. Here's a selection of great pieces of advice provided by the FH Europe community:
JULES PAYNE – UK
It is a common myth that heart disease affects more men than women. I would encourage all women to look after their heart health. @HEARTUK can help you do exactly that. Listen to our award-winning radio advert.
MERAL KAYIKCIOGLU – Turkey
Don't leave it too late. Young women with coronary heart disease generally seek medical care late, leading to a more complicated course of acute myocardial infarction (heart attack), including increased risk of mortality.
MARZENA ROMANOWSKA – Poland
Simple lifestyle changes. You can make a huge difference to your health and heart health specifically by modifying your daily habits. For example: start off your day with 30 minutes of an exercise routine, replace sweets with a handful of nuts, and make sure you know your numbers – check your cholesterol levels!
CHYREL LICHAA – Lebanon
Put yourself first. Know your heart literally and figuratively and treat yourself with care. I promise things will get better; it never rains forever. Your disease (FH) doesn't define you. You are more than what you believe you are capable of and you can achieve anything. Take control of your life and health and blossom.
MICHELLE WATTS – USA
Increased education and awareness. Familial hypercholesterolemia (FH) runs in our family, yet we had never heard those words before our daughter was diagnosed with the rare form of the disease, homozygous familial hypercholesterolemia (HoFH). There needs to be more education of doctors about the importance of screening for FH and testing children who may be at risk.
Help raise awareness for female heart health this International Women's day by learning how knowledge, prevention, diagnosis and management of coronary diseases can help women to live longer, healthier and happier lives. Thank you to the wonderful advocates and supporters who have contributed with their advice, follow #ManyFaceOneHeart to read all the contributions submitted for International Women's Day and tag other women in your circles, who could benefit from these messages.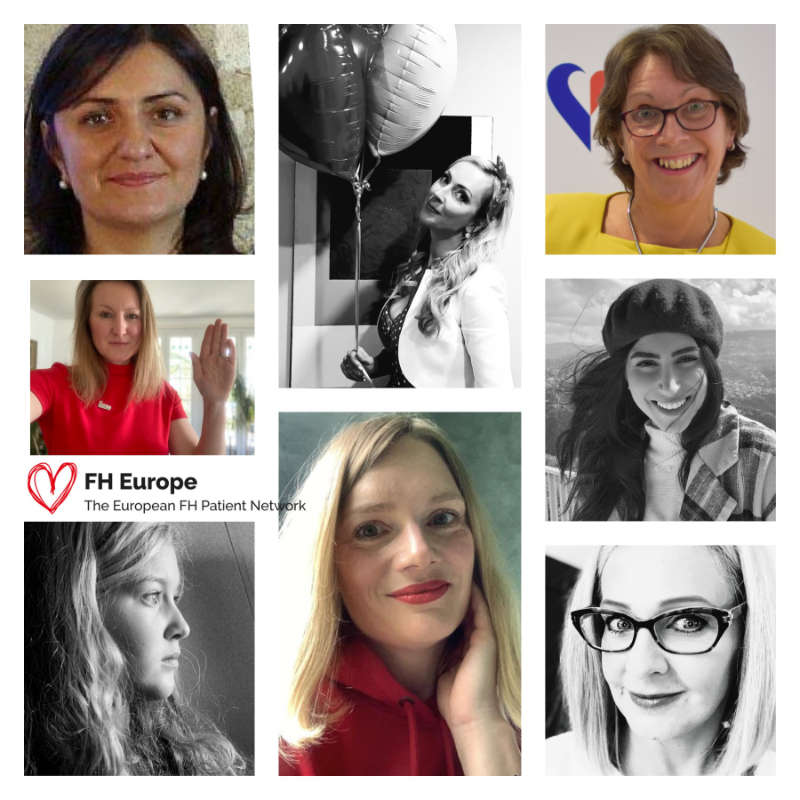 FH Europe is supported by an educational grant from Amgen Limited, Sanofi, Regeneron, Akcea Therapeutics Inc. and Amryt
Site by: Vovi Web Design