Meeting face to face finally!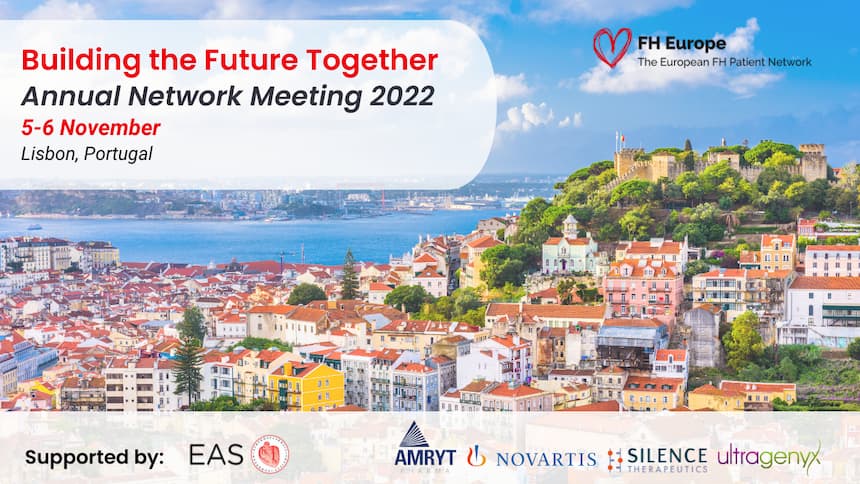 FH Europe's Annual Network Meeting takes place in Lisbon, Portugal, over the weekend of the 5 and 6 November 2022. Meeting face to face for the first time in 3 years, FH leaders from Europe and beyond will have the chance to share, to learn and to build the future of FH Europe together.
What is Familial Hypercholesterolaemia and other inherited lipid conditions?
Familial hypercholesterolaemia (FH for short) is an inherited condition which can cause extremely high cholesterol levels. It's passed down through families in the genes. Without appropriate management, FH can lead to heart disease at a very young age. But once it's been diagnosed, it can be treated with medicines and a healthy lifestyle. FH means your cholesterol can become much higher than other people's even if you have a very healthy lifestyle because it affects the way cholesterol is broken down in the body.
Familial lipid disorders or heritable lipid disorders (extreme levels of lipid) may be caused by underlying genetic factors. They include FH, HoFH, elevated Lp(a) and FCS.  They are cholesterol-related conditions that can cause heart disease and recurrent heart attacks. If you have high LDL-cholesterol (bad cholesterol) your risk of heart and vascular disease such as heart attacks and strokes is very high. High triglyceride (fat in your blood) can cause acute pancreatitis (inflammation of pancreas), which is the case in case of Familial Chylomicronaemia Syndrome in short FCS, another very rare condition like HoFH.
The meeting is co-hosted by Professor Mafalda Bourbon, a renowned geneticist in Portugal and a scientific advisor to FH Europe. It will take place in her organisation, the National Institute of Health Doutor Ricardo Jorge.   
We have some very special globally renowned guests from Portugal contributing to the event. Fausto Pinto, President of the World Heart Federation will set the scene for the political session. He is a very good friend to the FH Europe community and has actively supported the strengthening of the organisation over the last few years during his mandate at WHF. Dr Ricardo Baptista Leita, Member of Portuguese Parliament and head on Public Health at the Institute of Health Sciences will also speak about his passion for patients' and citizens' rights and their role in ensuring people centred prevention strategies, and finally Penilla Gunther, Former Member of Swedish Parliament,  and Founder of FOKUS Patient.
Why is this meeting so special? It is the next big milestone in FH Europe's journey towards systematic FH Paediatric Screening across Europe and an excellent backdrop to discuss this with key leaders in a national policy context. A dedicated workshop will provide an opportunity for FH Ambassadors and Allies to review key developments including the high-level technical meeting under the Slovenian EU Presidency in October 2021, and a further Senate meeting in September 2022 under the Czech EU Presidency which led to the endorsement by many pollical and key opinion leaders for the Prague Declaration – a blueprint for making FH Paediatric Screening happen in every country. With our meeting in Lisbon, we hope to be able to encourage new commitments towards achieving this in Portugal. 
Another important aspect of the meeting is the strengthening of FH Europe as a network, building on the achievements of the last three years, during which, despite COVID significant progress has been achieved. FH Europe's main asset is its people – ambassadors from all walks of life ready to fight for the rights of patients and citizens living with lipid conditions. In Lisbon, we will bring the different lipid communities together – FH – HoFH, LP(a), and FCS and work together on developing further the FH Europe Ambassador Programme, providing support, tools and inspiration to Ambassadors of all ages and all nationalities.  
The FH Europe team and board of trustees are very excited to be able to welcome this community to Lisbon. "Our ambition as a Network is high, but also achievable. Our weekend of learning, sharing, thinking and challenging will help us move to the next level as an organisation and embrace new opportunities for closer and stronger collaboration and working together. We are grateful to Prof. Bourbon and the National Health Institute for hosting us in this politically important and incredibly beautiful setting." says Magdalena Daccord, FH Europe's Chief Executive.
FH Europe would like to recognize and to thank its donors and industry sponsors. The FH Europe Annual meeting 2022 in Lisbon is being made possible thanks to the grant from the European Atherosclerosis Society and sponsorship from Amryt Pharma, Novartis, Silence Therapeutics, Ultragenyx.
FH Europe is supported by an educational grant from Amgen Limited, Sanofi, Regeneron, Akcea Therapeutics Inc. and Amryt
Site by: Vovi Web Design